Vero Beach Area description.
Vero Beach is a wonderful little seaside town located between Cape Kennedy and West Palm Beach Florida in Indian River County.
The area is famous for Indian River Oranges and Grapefruits and for being the original summer training location for the Brooklyn Dodgers. The Dodger Town complex is still in operation supporting amateur sporting events from all over the world. Indian River County is also the northern most county in South Florida and has a beautiful climate. The Gulf Stream turns sharply east at the north end of the county resulting in a significant climate change in the next county.
The County is divided by the Indian River Lagoon into a Mainland area consisting of part of the City of Vero Beach and the cities of Sebastian and Fellsmere and the barrier island which has part of the City of Vero Beach and the towns of Orchid and Indian River Shores. Both the Island and Mainland have substantial unincorporated areas. The county is home to Piper Aircraft, Flight Safety (an international Pilot training School) and a Cleveland Clinic Hospital. The county has a regional mall, a large outlet mall and all of the big box stores within a 15 minute drive. Vero Beach is the county seat for Indian River County which encompasses 617 square miles
Fortune magazine states that more "C" level executive's own property in zip code 32963, the Barrier Islands zip code, than anywhere else in the country. Strict building codes, a watchdog government, and an exceptionally high rate of charitable contributions and individual volunteerism contributes to the peaceful and idyllic lifestyle found in Indian River County. It is Florida's 6th richest county and one of the top 100 richest counties in the U.S.[3]
Vero Beach has been called the Hamptons of Florida because of its building height restrictions, low density and crime level, relaxed life style, Ocean Drive Shops and look and feel despite only being a couple of hours drive from Miami or Orlando.
Many residents and visitors believe the heart and soul of Vero is the 1.6 square mile area called Central Beach. The area has Beautiful tree lined streets with short walks to the beaches, Ice Cream Parlors and restaurants. This part of the City of Vero Beach contains the quaint Seaside Village, Museum of Art, Riverside Professional Theater, City Tennis Complex, The Rowing Club Facility, a leash less Dog Park, the City Marina, two life guarded ocean beaches, two boat launch areas, Veterans Memorial Island, two 4 star hotels (the Kimpton Vero Beach Hotel and Spa, Gloria Estefan's Coste De Estes) and several small motels. It is also the home for the Oceanside Business Association's Concerts, weekly Farmers Market and annual Christmas Parade.
The Vero Beach City Marina is known by cruisers from around the world. Vero in fact has the nickname of Velcro Beach among the cruisers because once you come you tend to come back or stay. There are many people who have cruised the world who now call Vero home.
There is a bike path that runs the entire length of the barrier island connecting to a bike path in the next county. You can rent Bikes Paddle Boards or Kayaks to tour the Indian River Lagoon at Orchid Island Bikes and Kayaks.
On the Mainland there is a Main Street Vero Beach Organization that has Quarterly street concerts and an Art Gallery Stroll. The Cultural Council, Opera Guild, Vero Beach Art Club, The Emerson Center, Garden Club, The Amateur Theater and other organizations all add to the wonderful quality of life in this little piece of paradise on Earth.
The county has both public and private golf courses and tennis clubs such as the Quail Valley Golf Club. Many communities have their own tennis courts for their residents' use.
Both the Mainland and the island have gated country club communities as well as quaint old-style picturesque neighborhoods and everything in between.
On the mainland there is a regional mall, a large outlet mall and all of the big box stores within a 15 minute drive.
The entire county has 70,000 residential properties with 43,667 (62%) being homesteaded (properties claimed as principle residences by owners). There are 11,820 residential properties on the Barrier Island and 6,416 (54%) being homesteaded as of August 2019 according the property appraiser's office.
The 2010 Census stated there were 138,028 residents of Indian River County, 52% female, 86.9% white and 27.8% of the people over 25 have a bachelor's degree or greater.
The median Household income in the entire country is $49,009 and the median Household income for just the Barrier Island is reported as $98,265.
The county has two Public High Schools, Charter Schools, a 4 year state college and private schools as well. The most prestigious of the private schools is Saint Edward's School on the Barrier Island.
The climate in Indian River County is perfect for outdoor activities year-round. On the Barrier Island there are very few days when there is not a refreshing breeze. There is a technically inaccurate sign in town saying "Vero Beach – Where the tropics begin".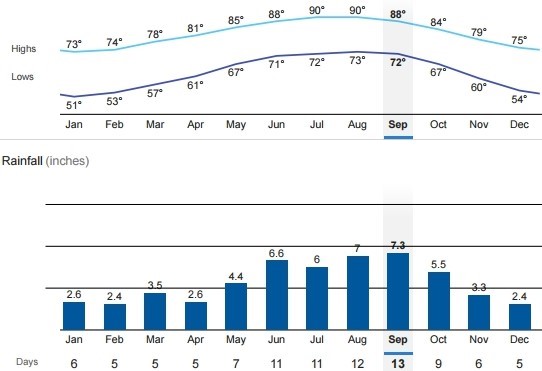 The Florida turnpike is 37 minutes and I-95 is 14 minutes from Vero Beach on Route 60 a 4 lane divided road.
Vero Beach has its own airport which has limited service to the Newark Airport and other east coast destinations via Eliteairways as well as plenty of space and facilities for all manner of private planes. In addition, many international airports are within driving distance:
Airports
Melbourne International 38 miles, 54 minutes,
Palm Beach International 82 miles, 90 minutes
Orlando International 103 miles, 104 minutes
Miami International 142 miles, 2 hours and 34 minutes
Here is some additional information on Vero Beach including a recent visit by a travel Blogger.
Five Reasons Vero Beach is your new favorite Florida destination.
https://www.huffingtonpost.com/xaque-gruber/five-reasons-vero-beach-i_b_10709570.html
Vero Beach identified as 4th The 10 Best Cities in America to Age in Place
http://www.realtor.com/news/trends/best-metros-age-place/?identityID=8136639&MID=2017_0811_WeeklyNL&RID=319620862&cid=eml-2017-0811-WeeklyNL-blog_1_bestmetroageplace-blogs_trends
A recent internet travel Blogger has this to say about Vero Beach.
http://www.tracysnewyorklife.com/2016/07/vero-beach-florida-adventures.html
Vero Beach named one of 5 best beach towns in Florida.
https://www.hoppa.com/en/j/blog/floridas-5-best-resort-towns/
The cultural council web site has some interesting information